Dear colleagues,

The URO Berlin Skills Teaching and Training (UROBESTT) is an educational programme of the ESU, designed to expand the capabilities of young, promising urologists. There was a need to develop a specific programme for a young generation of urologists eager to learn and grow together; every aspect of the meeting is tailored towards their needs and wishes.

UROBESTT offers a well-rounded Scientific Programme with excellent learning opportunities from an esteemed and knowledgeable faculty. A challenger session, skill-enhancing hands-on training and a diverse selection of clinical cases from participants are integrated into the scientific programme. Even the meeting's venue and facilities were set up to further encourage learning among the participants.

Guaranteed, UROBESTT is a meeting to look forward to.

See you in Berlin!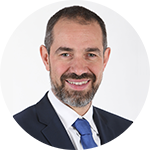 Prof. Evangelos Liatsikos
ESU Chair